Best Practices and Tips for New Xtrant Members
Welcome to Xtrant!


Here is a list of best practices and suggestions to help you get the most from this simple but powerful tool.


For Invited New Users
If you were invited to collaborate on a project, here's what you should know...
You Have A Free Xtrant Account: Anyone invited to use Xtrant receives a free account.
You Can Create Your Own Projects: All Xtrant members can create their own projects anytime.
You Can Only View Projects You Are On: Both projects you've created yourself, and the projects you've been added to.
You Have Complete Control Of Your Info: Edit your personal information on your profile

to control how much you share with the people you are working with.

Xtrant Tells You What's New: When you log in, updated projects will appear on top of the list. Xtrant also sends email notification listing recent updates. You can adjust or disable these notifications in your profile at any time.
Your Projects, Files and Info are Secure: Everything on Xtrant is encrypted using SSL-- just like a bank, and stored in our secure cloud.
Best Practices
Whether you've been invited to collaborate on an Xtrant project, or you are already using us for your own projects, here are some tips to get the most out of Xtrant.




Avoid Email
Though Xtrant does use email (for registration and to send out notifications of updates and changes to your projects) the way to get the most out of Xtrant is to have EVERYONE you are working with use the Running Notes and Comments (on assets) for all communication about the project - and use Shared Assets to post items for the group.  That way Xtrant keeps a running history of everything that was said and shared - and in one glance anyone on the project can be up to speed, no excuses.   

Notifications and Updates

When something changes on one of your projects you will be notified.  You can set your notifications frequency to 10 minutes, 1 hour, 6 hours or NEVER.  Never is good if you are always on Xtrant and check it religiously, but if you are on the road or away from your desk Xtrant will check your projects at the interval you select and only send you a notification if something is new.  The notifications are in "digest" form, meaning you only get one email, but it may include updates from multiple projects.  (You WILL NOT be notified if A. YOU have made the change or B. You have already seen the update.  Xtrant knows what you've seen and haven't seen so it won't bother you with redundant notifications.)

In App Notifications

When you log on to Xtrant, projects with updates will be highlighted in ORANGE. Within those projects the things that are NEW TO YOU are highlighted in orange as well, so your eye knows right where to go.  If it's orange you haven't seen it yet.

CHECK THIS INFO GRAPHIC (that explains our color system)

Using Shared Assets
Shared Assets are posts and uploads that are important to your project.  These can be anything from digital files to web URLs/links to editable text documents and code snippets.  Only those you designate contributor may post in Shared Assets but both contributors and participants can comment on those posts.  

In Shared Assets you can...  
Drag and Drop Files to upload directly from your desktop.
Create a Document in Xtrant. XtrantDocs act like word processor documents, and can be formatted, edited and printed directly within the app.
Post Code Snippets with line numbering and color coding for development teams.
Post URLs, Videos (Vimeo / YouTube) and Sound Cloud links.  URLs show a screenshot preview, Video and SoundCloud files  automatically embed in our viewer.

Upload Almost any File from PDF to DOC to CAD files and popular image formats (plus quite a few obscure file types.)  PDF, DOC, and XLS and even SWF files will preview in our viewer.
Create GROUPS of assets....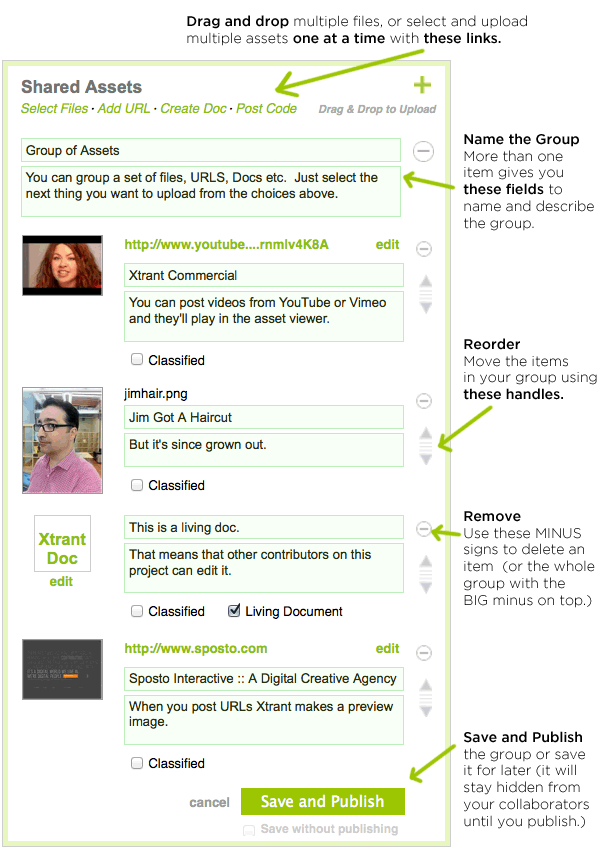 Using Running Notes
Running notes appear on the right side of your project page and serve as a contextual running record of comments or conversations pertaining to the work at hand.  Any project participant or contributor can add or comment on running notes.  All running notes become part of that project's history and can be referred to without searching through old emails or other records.

Running notes are an efficient way to:
Start a Conversation, with the comments below it continuing the discussion.
Start a Brainstorm List, with each comment serving as a new idea or list item on that topic.
Notify Your Team of important appointments and changes.
Using Milestones
The Milestones section of each project lets you list tasks, goals and (of course) milestones.  Milestones can be dated or undated - dated milestones show in descending order (later dates farther down the list) and undated milestones can be moved (dragged) anywhere in the list you'd like to place them.

Each milestone has...  
A Name - what that milestone is.
A Description - for instructions or other notes pertaining to that milestone.
A Status - manually set as Pending, In Process or Complete (Represented by a hollow circle, half filled, or solid circle respectively.)
A Date (optional)
NOTE: Coming for Milestones, REMINDERS, NOTES, ASSIGNMENTS and CALENDAR INTEGRATION.)
People

When you create a proejct you will automatically be prompted to add people. 

When you add people you will be required to enter their first and last name, email address, and specify their permission levels for the project you are putting them on (either viewer, participant or contributor).  You can also allow them to add others to the project as well.
People you have added previously are automatically in your contact list and can be selected from a pull down menu, just start typing their name, select it from the list and then specify their permissions for that project.
Once you publish your project the people will be notifed and invited to collaborate with you.
NOTE: If they don't receive an invite you may have to tell them to check their spam folder and allow Xtrant OR send them a reminder (see "MANAGING PEOPLE IN PROJECTS" below.)

Profile and Preferences

Click your name in the upper right of the app and select "My Profile" and you can add contact methods and change your notification preferences.  Like this: